The standard tank cleaning method for trailers has traditionally involved the vertical insertion of tank spinners through the centre manways. Despite this method has always been acceptable, this rarely cleans properly areas to prevent tank contamination.
Gamajet Alfa Laval has created a solution for cleaning the notoriously hard-to-reach bulkheads in cargo tank: The Sidewinder. The Gamajet Sidewinder is a revolutionary, affordable accessory for achieving the most effective and efficient tanker, trailer, and railcar cleaning.
A revolutionary device for achieving the most effective tanker, trailer, and railcar cleaning, the Sidewinder enables a Gamajet Tank-cleaning device to be placed on its side, completely changing the nature of the nozzles' orbit, enabling it to focus on the bulkheads. In effect, tankers can be cleaned in half the time.
Instead of following an ellipse pattern across the tank wall, as is the case when spinners are inserted vertically, the Sidewinder enables the machine to form a figure-8 pattern sweeping the length of the tanker. With the implementation of a Sidewinder, the spinner will deliver 30 times more hits to the bulkheads, cleaning tankers in half the time with no shadow areas, according to Gamajet officials.
Coupled with Gamajet spinners, which are designed to easily handle 6m to 9m throw lengths, the Sidewinder enables wash stations to provide the most efficient and effective clean to every inch of the tanker, giving you a Total Spraying Solution for the toughest application.
Gamajet Alfa Laval tank cleaning machines are designed for 100% elimination of confined space entry and to replace the need for manual entry tank cleaning. They may be permanently installed or used portably from tank to tank. For the portable applications they are dynamically balanced so that they may be lowered into a tank on a flexible hose.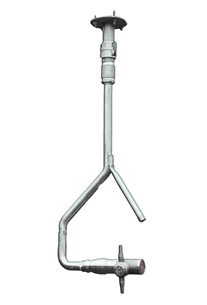 Sidewinder benefits
Delivers 30 times more hits to bulkheads
Cleans tanker in half the time
Self-balancing capability to maintain revolution control
Compatibility with facility's existing pressures and flows
No shadow areas after cleaning
Contact Spray Nozzle Engineering today for free advice and complete Clean-In-Place solutions for every application.