A retractable lance allows you to withdraw your nozzle, isolate it from the process, and then remove it completely for servicing without taking your process offline. Once the industrial nozzle is serviced, cleaned, or inspected; simply reattach it to the system, open the isolation valve, and insert it back into the process. This is often a critical requirement for petrochemical facilities where process outages are costly.
For example, certain applications involved in the production of petroleum contain particles that are very erosive. The ability to remove the nozzle for refit while keeping the process online offers a tremendous cost savings.
Spray Nozzle Engineering, the exclusive supplier of BETE industrial nozzles in Australia and New Zealand, offers a robust retraction mechanism that effortlessly moves the lance from extended to inserted and back. A simple cordless drill is all that is required to power the unit, making this design a favourite with maintenance crews. The mechanism is flexible in its configuration; allowing alternate electric, pneumatic, or hydraulic power sources to drive the unit.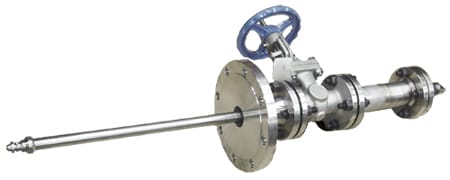 Retractable Lance
Common Design Requirements:
ASME B31.3 - Process Piping
ASME B31.1 - Power Piping
Boiler External Piping (PP Authorisation)
Non boiler External Piping
ASME Boiler and Pressure Vessel Code Section VIII, Division 1 (U and UM Authorisations)
Welding qualification to ASME B&PVC, Section IX
Canadian Registration (CRN)
NACE compliance
Common Materials:
Stainless Steel
Nickel Alloys
Carbon Steel
Mechanical Inspections/Non-Destructive Testing (NDT)
RT – Radiographic Inspection
UT – Ultrasonic Testing
DP – Dye Penetrant Inspection
Hydrostatic Pressure Test
PMI – Positive Material Identification
MPI - Magnetic Particle Inspection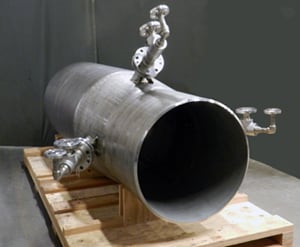 Performance Inspections
Flow
Spray Angle
Cone Shape
Droplet Size
Special Customer Requirements
Maintenance without downtime