A large Construction Authority in one of Australia's major cities recently contacted our Spray Nozzle Engineering Special Projects team seeking help with selection and testing of nozzles for dust suppression whilst boring a new railway tunnel under a Central Business District. The construction company required a solution immediately in order to ensure the project was not delayed. When boring tunnels in populated urban or metro areas, dust suppression needs to account for external factors such as public safety, and internal factors such as visibility and worker health and safety.
The tunnel dimensions measured 5-6m wide x 5m high. The length of the tunnel is approximately 2 kilometers. The company's requested solution was to build a kit so as to make a portable dust suppressing spray system that could be moved as the tunnel continued to be bored. The requirement needed spray to throw 4-5 meters as spraying from 1 side across to the other.
Spray Nozzle Engineering Operations Manager Dirk noted "we conducted testing in 'our' wet room & used a series of hollow cone misting sprays (low flow) to knock-out smaller particles (throw approximately 2 meters accounting for draft air moving droplets around the area) and narrow angle low flow flat fan sprays, to throw 4-5 meters. We client tested both nozzle types, including setting up a simulation to account for wind/drafting, and documented results for the client. As we are a major distributor for many of the worlds leading spray nozzle and hose management manufacturers we had ample stock on hand to ship the required parts to the site the same day. The increasing dust situation in the tunnel was prevented from impeding project works as the client had the foresight to recognize arid conditions may cause more than expected, and, because our staff had the experience and technical ability to respond dynamically and efficiently".
Spray Nozzle Engineering have extensive experience when it comes to implementing custom solutions. This isn't the first tunnel project the team have worked on including several throughout large APAC countries including Australia and New Zealand. The New Zealand projects include Fire Protection nozzle modelling, testing, and consultation on installation for some of the countries largest vehicle tunnels. More information on these projects will follow.
Products Tested for application performance and suitability for this project included: A Series of Low Flow Hollow Cone Misting Spray Nozzles and Narrow Angle Low Flow Flat Fan Spray Nozzles.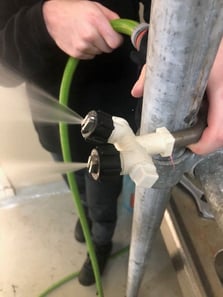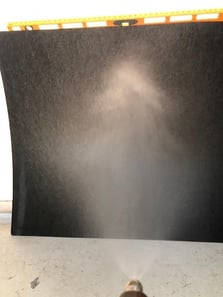 Industrial Spray Nozzles, dust suppression, dust suppression tunnel boring